ergoCentric's sole mission is to design and manufacture the best ergonomic chairs in the world and they are recognized as North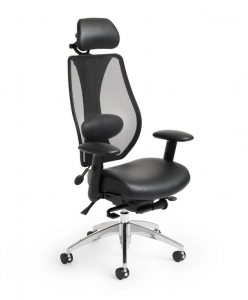 America's premier manufacturer of high-quality ergonomic seating for office, specialty and healthcare environments.
Most seating manufacturers take a "one-size-fits-all" approach to chair design which may fits many, but won't fit everyone. ergoCentric believes that everyone should be comfortable at work and our build-to-order, modular manufacturing system allows them to fit every person with the perfect chair. With their always-in-stock inventory of modular components, they are able to make thousands of different chairs and they even modify specific components as required. This means that all employees can be sitting on seating with a streamlined aesthetic, with custom modifications to meet the needs of individuals.