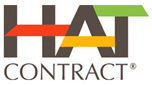 HAT Contract electric adjustable height tables and desks promote a healthy, personalized workplace experience:
What are some of the uses of the HAT Height Adjustable Table?
Standing Desk or Stand Up Desk
Height Adjustable Desk
Ergonomic Desk
Standing Computer Desk
Adjustable Standing Desk
Standing Computer Desk
HAT Contract offers a variety of workplace solutions with features that will meet the needs of your employees or staff, with a height adjustable desk to meet every need and just about every size. These ergonomic desks can change height to accommodate persons of different heights and sizes quickly, comfortably and easily.
There are different configurations as well, for different space requirements and floor plans. For corners we offer an L-Shaped Unit, a 120 Degree Unit and a Corner Unit. There is also a standard rectangular unit, which is one of the most popular choices for just about any floor plan.