Perfect Fit Ergonomics Online Quoting System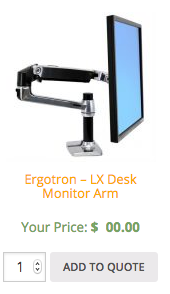 Available directly on our website, you can create instant quotes for your organizations most often needed ergonomic products. Quickly and easily our system allows your staff to login from anywhere in the country, select their needed items and generate a quote instantly. On receipt of your Purchase Order or other form of payment we are ready to ship nationwide.

Its as easy as 1, 2, 3!
1. Login on our website
2. Click item(s) to be quoted
3. Click "Generate Quote"
1, 2, 3 and the quote is sent directly to your email instantly. We accept Purchase Orders and other forms of payment to further our goal of quickly and easily getting your employees happier, more productive and more comfortable.
Get signed up or request a demonstration, email anna@perfectfitergo.com or call 805-201-2301