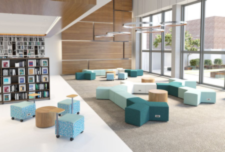 The newest workplace design trends are moving more toward a blend of aesthetics and functionality for office space layout.  The modern designs focus on employee collaboration and increased productivity.  The collaborative workplace is where up-and-coming generations thrive.  An open floor plan, as opposed to cubicle spacing with high walls, with a mix of different functional spaces (think reserving a private office), is a good way to foster employee teamwork.  Perfect Fit Ergonomics, based out of Ventura County, CA, prides itself on offering products from a variety of manufacturers who design these modern-day ergonomic products for the collaborative workplace environment.
ERG Internat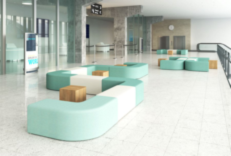 ional, out of Oxnard California, has perfected that blend between style and usefulness for the business office.  ERG International's Connos Collection is an extensive & versatile modular backless bench that features comfortable seating with simple designs and unique shapes that is perfect for the office employee. Their Star & Star Grande have unique patterns that will bring dynamic design to any collaborative space with endless configurations.
Wanting to try out a new furniture configuration in your office?  Southern California's Perfect Fit Ergonomics brings office furniture to businesses to demo for seven days.  Please go to www.perfectfitergonomics.com for more details and to schedule your demo.